The Olympic Breakfast is a breakfast and one of the signature dishes at Little Chef.
The Olympic Breakfast was added to the Little Chef menu in 1994; the same year when the Winter Olympic Games took place in Lillehammer, Norway. There are lots of questions to ask about where the name came from. Was the name given due to the Winter Olympics that took place that year or was the name given due to the large size of the breakfast. The word 'Olympic' in terms of the breakfast means metaphorically as large portioned.
Since 1994, the Olympic Breakfast has always been a Little Chef favourite and one of their signature dishes. The breakfast is often bought by those who are travelling long distances as it provides a high source of energy for long journeys. In 2009, Heston Blumenthal modified the Olympic Breakfast to make it better and more enjoyable. 
When the London Summer Olympics took place in 2012, there were a lot of protests to temporarily ban the Olympic Breakfast whilst the Olympics were taking place. Happily, the ban didn't happen and Little Chef happily served the breakfast during the 2012 Olympics. After all, it is called the Olympic Breakfast. 
The Olympic Breakfast costs £7.99.
The Olympic Breakfast is Little Chef's largest breakfast. It includes:
Two rashers of back bacon.
A British sausage.
Two griddle fried eggs. 
Mushrooms
Sautéed potatoes
A griddled tomato
Baked beans. 
There is also the choice of fried bread or toast on request.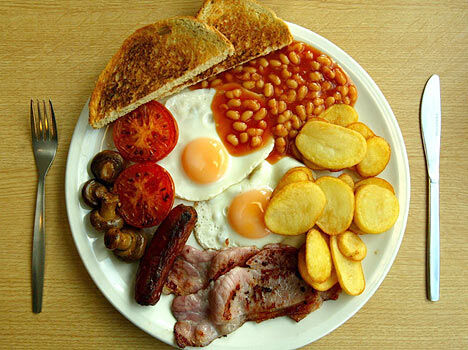 Community content is available under
CC-BY-SA
unless otherwise noted.